Apartments and Houses for Sale in Dubai
With the purchase of a flat in Dubai, you are not only buying a property, but also a new quality of life: sun all year round, proximity to the beach and water, as well as the carefree lifestyle in one of the safest cities in the world. We present this informative article together with TERRA NOVA, our partner for real estate in Dubai. Here you will learn in which districts it is best to invest in an apartment/house in Dubai, how the city is developing and why Dubai is the perfect city to invest in your future.
The development of Dubai
The best city in the world – Dubai wants to earn this title within the next 20 years through the project "Dubai 2040 Urban Master Plans". Buyers of a flat or a house/villa in Dubai can therefore look forward to the developments mentioned in the video.
The Dubai 2040 Urban Masterplan in summary
Sustainable development and optimisation of the quality of life in Dubai are formulated as the main goals.

Among other things, the public beach areas are to be significantly expanded, 60 % of the area in Dubai is to be declared a nature reserve, green energy is to be promoted and the infrastructure and development of the city are to be improved.
Dubai builds real estate for soon to be 6 million inhabitants and residents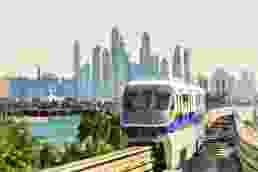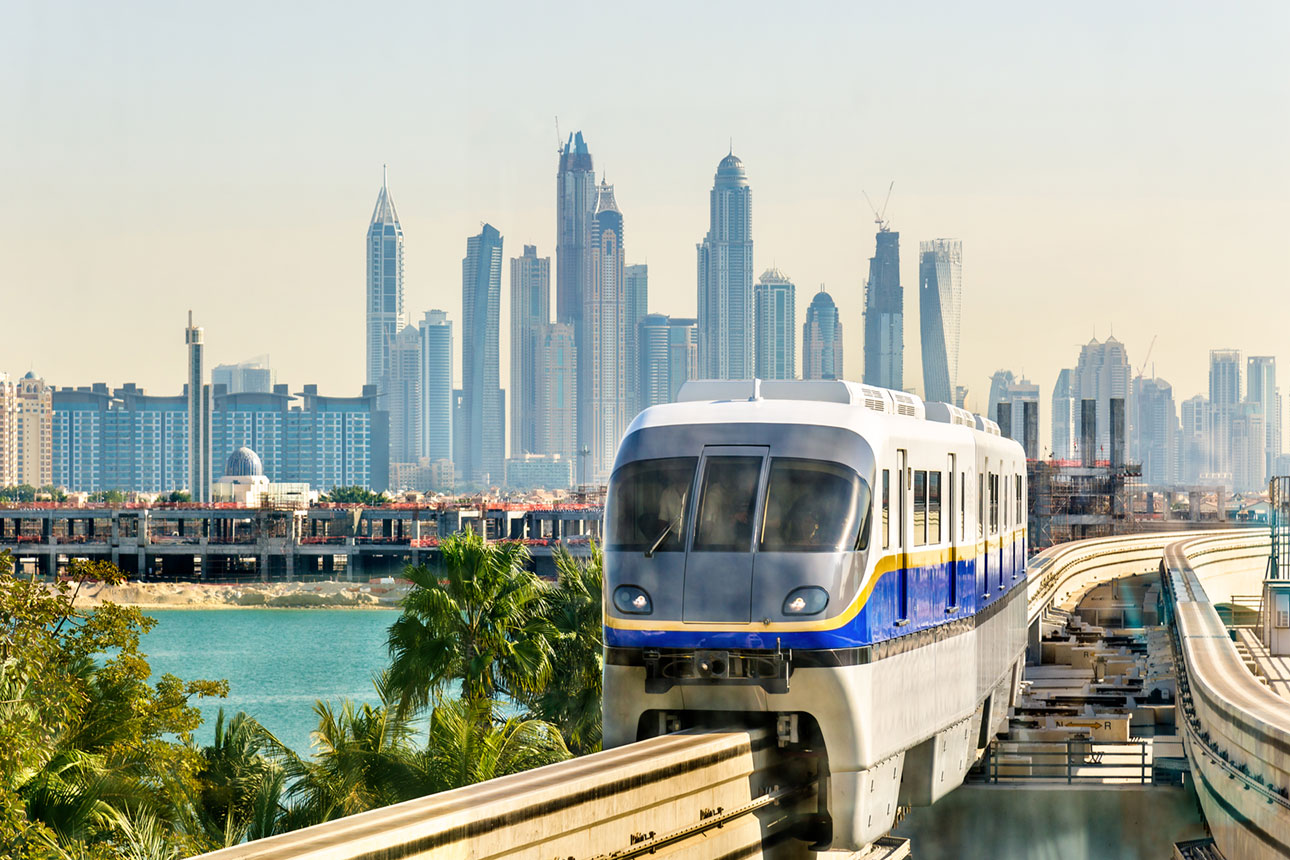 On the one hand, Dubai is to become more sustainable, but on the other hand, it is also planned to increase the economy and the population. Within the last 60 years, the population has already shot up from 40,000 to 3.3 million. Now, this number is to be almost doubled by 2040. Despite the rising population, Dubai boasts a low unemployment rate.
Various other programs are working towards optimizing life in Dubai, which is why investments are being made in the areas of education, the economy, development policy, and community cohesion in particular.
The dazzling visions will be aspired to by the city in the coming months and years and will make Dubai all the more attractive and exciting for buying a property. But where is it worth buying a flat in Dubai? Find out in the following paragraph.
The 5 most popular neighbourhoods for your future house or flat in Dubai
Palm Jumeirah

The artificial palm island of Palm Jumeirah offers the ideal living space with its breathtaking views of the Persian Gulf and perfect living conditions in beautiful villas. There is no shortage of leisure activities here, making a flat in this idyllic neighborhood particularly pleasant.

Dream flats with views over the entire Palm Jumeirah:
Would you like to buy an exclusive flat on the Palm Jumeirah? Then we recommend the Palm Tower Residences in The Palm Tower.

Wohnen unweit des Dubai Canals

Business Bay

Innovative and ideal for young professionals is the modern Business Bay neighborhood in Dubai. Here, living and working spaces can be perfectly combined, so that an ambitious, creative, and lively atmosphere is in the air. However, it is not only young entrepreneurs who feel well taken care of in a flat in Business Bay, because the neighborhood is also ideal for living in general due to its facilities.

Dubai Marina

Luxurious residential towers rise into the sky in Dubai Marina with a modern ambiance against the backdrop of the deep blue sea. Great restaurants, a variety of entertainment programs, and good access to social and medical services make Dubai Marina a particularly fantastic neighborhood to buy property in Dubai.

Downtown Dubai

The district of Downtown Dubai is particularly diverse in terms of art, culture, history, and leisure. The shopping opportunities in the Dubai Mall alone make hearts beat faster, but life pulsates here in other ways as well: In addition to the Burj Khalifa with its magnificent fountains, you live here not far from the Opera House and Burj Park. For a wealth of opportunities in the immediate vicinity, a flat in Downtown Dubai is a perfect choice.

Jumeirah Lake Towers

The world's tallest office building, the Almas Tower, is located in the Jumeirah Lake Towers district. Next to it is a largely residential area with modern high-rises and great opportunities for walking, relaxing, exercising, and shopping - but there are also plenty of wonderful restaurants here. So Jumeirah Lake Towers offers the perfect living space for families in Dubai.
Top 7 reasons why buying a flat or house in Dubai is worthwhile
Attractive returns and tax advantages

Particularly advantageous when buying a property in Dubai is the return, which is between 5 and 8 %. If you move to Dubai, you save some taxes compared to the tax authorities in DACH. For example, there is no income tax in Dubai on income from home and abroad.

Cultural diversity

As people from all over the world move to Dubai to create a new living space in the innovative and luxurious ambience, a wide variety of cultures are represented in Dubai. This is only possible because Dubai is generally open to foreigners. Thus, the city inspires with many different offers for people of all origins.

Free visa

Buying a flat in another country is of course also related to the conditions of the visa. In Dubai, it is possible to obtain a free visa if a certain amount of investment is made. Various visas can be obtained.

Retirement Visa
If you want to enter Dubai with a Retirement Visa, you have to be 55 years or older. On the other hand, an investment of at least AED 1 million in one or more existing properties or in a deposit in a local bank is required. The Retirement Visa is valid for 5 years as long as the requirements are met.

Investors Visa
An investor visa is also a great way to build a life in Dubai. This involves investing money of at least AED 750000 in one or more existing properties and then staying in Dubai for 2 years as long as you keep the property.

Golden Visa
If you invest at least AED 2 million in one or more existing properties, you can get a visa for 10 years. All that is required is that the purchased property remains in one's own possession.

Pleasant temperatures all year round

No sooner do the cold months begin in Europe than the days become shorter and darker. It is not uncommon for rain and snow fronts to move across these latitudes and cause unpleasant weather. If you move into your flat in Dubai, you can escape these problems. The warm and sunny weather definitely speaks for itself.

Booming economy

With 12.8 trillion USD, the GDP in Dubai is particularly high and shows a positive development of the economy. You can join this development when buying a property in Dubai and benefit from the advantages of a flourishing economic situation. The emirate continues to expand and, for example, its Master Plan for 2040 ensures that the city is always developing strategically. This makes a property in Dubai a sensible long-term investment.

Eine Wohnung der Oberklasse im neuen Atlantis The Royal

A holiday flat to relax in

Whether for a holiday or a much-needed change of scenery, a holiday flat in Dubai is a wonderful choice due to its diverse leisure programme, warm weather and ideal location. Fun and relaxation for the whole family is guaranteed here.

Modern lifestyle

Impressive skyscrapers and extravagant hotels can be found en masse in Dubai. The innovative city not only provides fabulous living options for a lifestyle that is hard to imagine here. Those who can call Dubai their adopted home are also always at the cutting edge of technological innovation: autonomous air taxis, exciting architecture such as that of the planned Moon Hotel or the Museum of the Futures as well as digitalised government services are just a few of the many things that will make Dubai the most innovative Arab city.
Your partner for the purchase of flats and houses in Dubai - TERRA NOVA
Founded in Dubai in 2013, TERRA NOVA Real Estate Brokers stands out as an experienced and dedicated contact for the purchase of a property in Dubai. The team of Konrad and Marc Schwitter will be happy to guide you through the process and support you in making your dreams come true.
Get advice now
Send TERRA NOVA an enquiry now for a free consultation on your dream property in Dubai!