Desert Safaris in Dubai - Tickets & Info
A desert safari gives you the ideal mix of nature, culture, and action. These can be combined with other attractions such as sandboarding, camel riding and a cozy BBQ. Our article gives a good overview of the different desert safaris in Dubai.
The Most Popular Tickets for a Desert Safari in Dubai
Secure the most popular tickets for a desert safari in Dubai now in advance through our ticket partner GetYourGuide and get the many benefits:
Best prices guaranteed
Avoid long queues on site
Free cancellation up to 24h in advance
24/7 international customer service
Tickets sent directly to your smartphone
The Number of Desert Safaris in Dubai Makes the Decision Difficult. Here's an Overview
Our Recommendation

Desert Safari with Camel Safari, Barbecue Dinner and Much More!

from $ 59.99, duration: 6–7 hours

30 to 40-minute fast ride in an off-road vehicle over the dunes
Sandboarding the dunes (no experience necessary)
Guided camel ride through the desert
Barbecue evening buffet in Bedouin camp with dance performances
Free pick-up from your hotel in Dubai by an English-speaking guide
Incl. drinks, Arabic tea, dates, and pastries as well as shisha

After you have been picked up from your accommodation in Dubai, you will be taken to the far-reaching Lahbab Desert. There you will drive over the dunes in an off-road vehicle. This is known as "dune bashing". There will be various breaks during the trip. During this time you will have, for example, the opportunity of doing a quad tour, trying out your sandboarding skills or simply enjoying the infinitely wide sand dunes. Before you are taken to the Bedouin camp, you may take part in a camel ride if you like.

Once you arrive at the Bedouin tent camp, delicious traditional snacks will be waiting for you. In the evening you will get to enjoy a very tasty Arabic barbecue buffet where, besides meat dishes, many delicious vegetarian specialities are offered. Afterwards, you will get to decide on the further course of the evening before you return with the off-road vehicle to your hotel. Choose from another camel ride, a falcon show, a water pipe or traditional shows (acrobatics, belly dancing, fire show) - here you are offered a lot!

Our Recommendation

Premium desert safari with breakfast

from $ 179, duration: 5 hours

Desert safari in a Range Rover to the nature reserve
Exclusive breakfast at Al Maha Desert Resort
Including high-quality binoculars
Transfer in an air-conditioned vehicle

Start the day with an action-packed excursion into the desert: With a Range Rover, you drive to the Dubai Desert Conservation Reserve. There you will have the opportunity to observe the wildlife in the Dubai Desert with binoculars. With a little luck, you will see gazelles, wildcats, Arabian oryx, and various birds.
Afterward, you will be taken to the luxurious desert hotel Al Maha Desert Resort. An exclusive breakfast buffet with a beautiful ambiance awaits you there. After you have further tasted the quiet morning hours in the desert, you return to the city.

5-Hour Desert Safari with Dinner & More

from $ 50.91

–20%

, duration: 4 hours

Discover the desert with a Land Cruiser
Camel ride, barbecue dinner and dance performance in a tent camp
Transfer from Dubai or Sharjah in an air-conditioned vehicle

Let us pick you up in Dubai or Sharjah with an all-terrain vehicle. Then enjoy a relaxing drive through Dubai's desert. There you will get to admire the unique landscape while driving over the red dunes of the Al Hibab. Afterwards, you will be taken to a tent camp where a beautifully arranged barbecue dinner will be waiting for you.

Dubai Desert Safari with BBQ, Camel Ride & Sandboarding

from $ 26.95, duration: 4 hours

Approximately six-hour-long desert safari in Dubai
Delicious grill buffet with various Arabic delicacies
Camel riding, sandboarding and henna tattoos
Oriental entertainment program with belly dance show to Arabic music
Transfer in an air-conditioned vehicle

After picking you up at your hotel you will be driven into the desert of Dubai. Breathtaking scenery will await you there: Sand dunes as far as the eye can see. As with any safari, you will cross the dunes in a four-wheel-drive vehicle. After arriving at the desert camp, a cup of Arabic coffee or tea will await you. You can then ride a camel or glide through the fine sand on a sandboard. Henna paintings and a buffet with barbecue and Arabic specialities round off this desert safari. It will also be accompanied by a typical entertainment programme.

Combo-Ticket

Dubai Desert Safari & Ticket for Burj Khalifa

from $ 105, duration: 6 hours

Ticket for the 124th & 125th floor of the Burj Khalifa
Desert safari
Camel ride or henna painting
Tasty barbecue dinner with Arabic presentation
Transfer in an air-conditioned vehicle

First, you'll get to marvel at Dubai from the highest building in the world: the Burj Khalifa. Afterwards, you'll be taken into the desert. Here you'll stop at a camel farm and learn a lot about the animals. You will then continue to a desert camp where you will be welcomed with dates and Arabic coffee. After a camel ride or a henna tattoo, a barbecue dinner will be ready for you. You can let the evening fade away with a water pipe while overlooking an impressive starry sky.
A Portrait of a Desert Safari in Dubai-
An Eventful Day in the Desert
Get to know the country's culture on a trip into the desert. A mixture of idyll and action attracts many visitors every day. Adventurous people are guaranteed to get their money's worth with a fast desert safari by Jeep or quad! There's sandboarding too, for which no previous knowledge is necessary. This provides both drivers and spectators with a lot of fun. Those who prefer to take things a little easier can enjoy the expansive landscape with a leisurely camel ride in which the camels are always controlled by a guide.
A desert safari in Dubai is a multifaceted experience for the whole family. Whether you prefer action, relaxation or romance, a desert tour fascinates everyone and offers unique photo opportunities to send to your loved ones back home.
Action in the Idyll - Drive a Quad or Buggy through the Sand
If you are attentive and have sharp eyes, you may spot wild animals like gazelles, wild cats or camels. Using an off-road vehicle, you will be able to race right through the sand. No dune is too high, no manoeuvre too daring. We promise you a rush of pure adrenalin! The keywords here are "dune bashing"! It's even more fun when you do it without the luxury of a modern vehicle and go for a desert buggy or quad. Take note that for this, though, on most desert tours additional local costs are charged.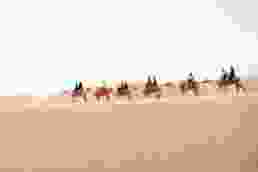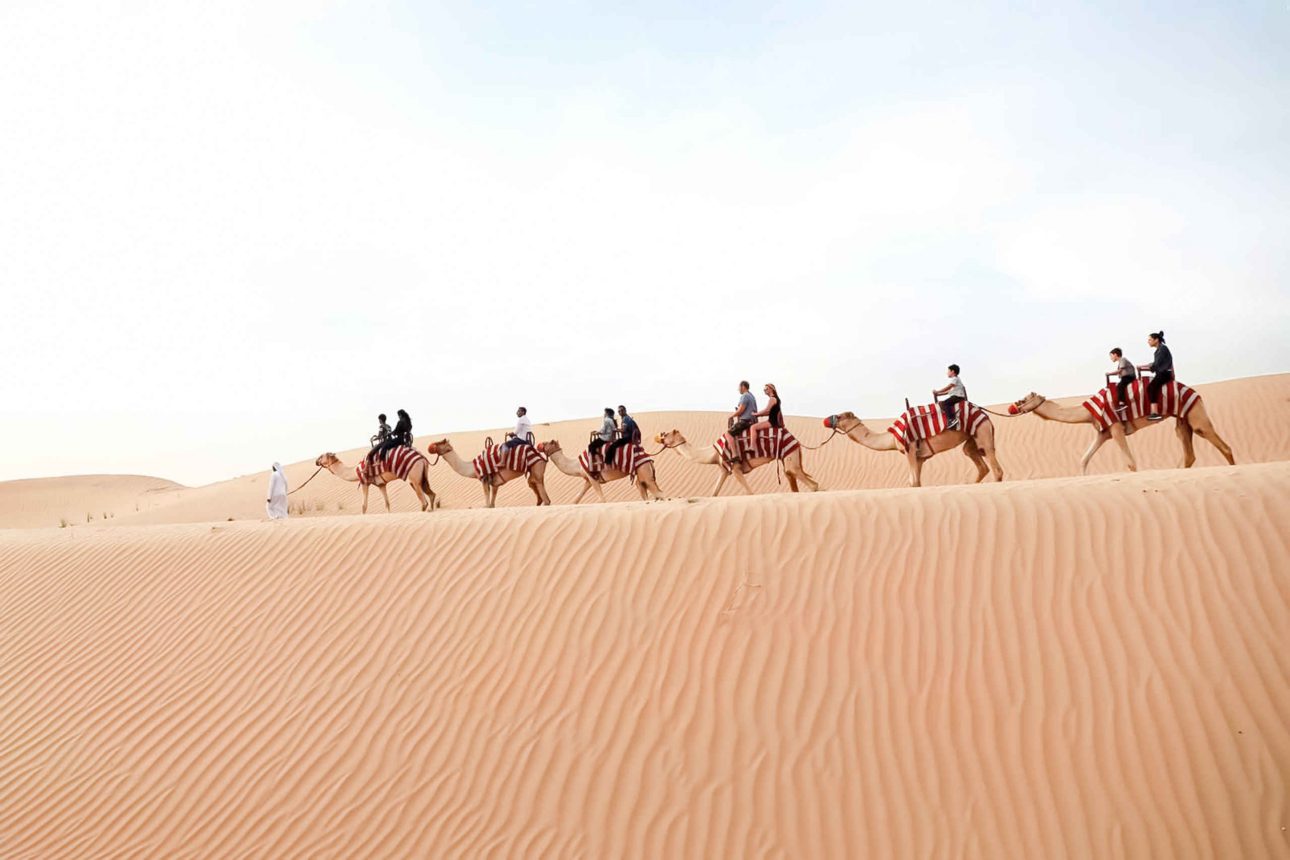 Combine Your Desert Safari in Dubai with Other Attractions
After your daring journey, you will be enchanted by the different supporting programs available on a desert safari in Dubai. Choose between a falcon show or a ride on a camel. The animals can not only be admired from a distance but can also be touched and experienced live. This is especially fun for children and will be an unforgettable experience for them. Camels can be found in almost every zoo, but you can't touch them there. Alternatively, you could look for a place with a breathtaking view over the desert. There you will be able to enjoy the fantastic play of colors of the sunrise or sunset over the sand.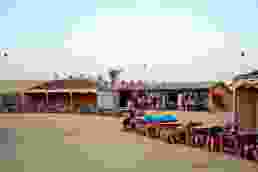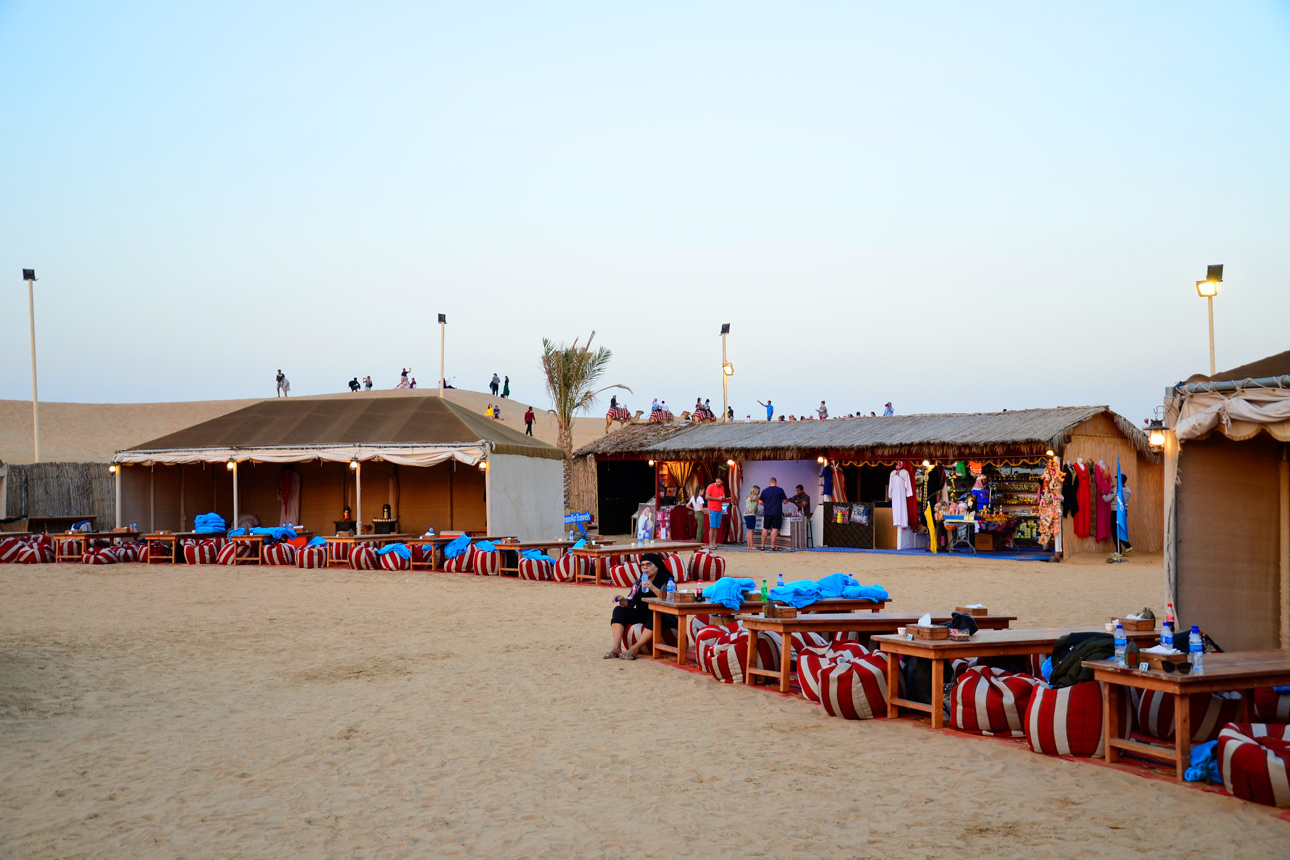 On the Trail of Culture with a Tour through the Desert Arabic Magic in a Bedouin Camp
In addition to all the action of activities such as dune bashing and sandboarding, a desert safari is also a cultural experience. As a visitor, you will get to walk along ancient paths. For example, immerse yourself in Arab culture by painting henna, enjoying a genuine Arab shisha and trying on traditional desert clothes. Plus, taste the traditional cuisine of the United Arab Emirates.
Silence, Togetherness & Romance During a Desert Safari in Dubai
The endless sand dunes are not only worth seeing during the day under the bright blue sky. It gets really romantic here in the evenings. Under the impressively clear, starry sky in the midst of the extensive landscape, a candlelit dinner becomes an emotional experience. Far away from noise and hustle and bustle, with just the light of candles and torches, you and your partner will be able to relax together and forget your everyday stress. Find each other again and take in the pleasure for all your senses and your souls. After a multi-course menu, you will be able to search for constellations together or simply let your thoughts wander as you talk.
Conclusions & Recommendations for Your Desert Safari in Dubai
Basically, there is so much to experience on a Dubai desert tour that a single visit is not enough. Even the second or third time you will discover many new things and be just as enchanted as you were the first time.
If you want to experience as much as possible at once, we recommend the . There you will experience an extensive dune trip, a camel safari, and a quad ride as well as the possibility of trying your hand at sandboarding in just one day. You will also have a few free hours in a Bedouin camp with a traditional barbecue and entertaining shows. This tour is certified by our partner GetYourGuide. This means that this tour has been tested and is highly recommended. We recommend that you take a jacket with you as the desert gets very cool after sunset!
A Small Insight Into Your Next Desert Safari
Special Desert Experiences
More Trips & Tours