Best Hotels in Downtown Dubai
Are you looking for a nice hotel in Downtown Dubai? We have put together the best Downtown Hotels for you - so you are guaranteed to find a suitable hotel for your stay in Dubai.
The Most Beautiful Hotels in Downtown Dubai
Good reasons for a Hotel in Downtown Dubai
The Downtown district is very popular in Dubai, especially among tourists. And not without reason. Find out here which reasons speak for a hotel in Dubai Downtown:
Many sights and attractions are within walking distance
Great choice of restaurants, bars, and other evening activities
Quick accessibility from the airport
Good connections to the other districts in Dubai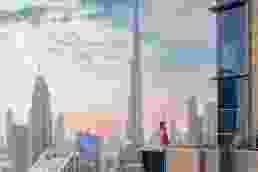 Dubai Downtown: Dubai's Modern City Center
Dubai Downtown is not only a popular home to the finest hotels in Dubai. It is also the center of Dubai, where many attractions are located. In addition, here you will find many tourists as well as locals strolling along the beautiful promenades. For example, the promenade on Sheikh Mohammed Bin Rashid Boulevard invites you to visit a restaurant or take a long walk. The promenade extends around downtown and the Burj Khalifa. In addition, Downtown is home to countless shopping opportunities - whether luxury brands or international fashion chains.
The cityscape of Dubai Downtown is very urban. Especially because of the numerous futuristic skyscrapers and magnificent hotels. But between the skyscrapers there are also some green areas and parks, such as the popular Burj Park. In addition, Dubai Downtown is one of the most progressive districts in the Arab Emirate as well as in the world. For example, there is the Dubai Trolley - the world's first hydrogen-powered streetcar.
Enough reasons to choose a hotel in Downtown Dubai? If you are still undecided, we have summarized all the sights and attractions in Downtown Dubai for you.
We think: After such a long sightseeing tour, definitely a big plus to have a break in a hotel in close proximity.
Sights & Attractions in Downtown Dubai

A hotel in Dubai Downtown is especially recommended because of the variety of sights and attractions. Because in Downtown you can reach many popular attractions on foot and it is guaranteed that you will not get bored. During a strenuous sightseeing tour, you can also always return to your hotel in Downtown and rest. Who can't use a short break to recharge their batteries during a hot day of sightseeing?

The following attractions await you in Downtown:

Burj Khalifa: Enjoy a breathtaking view from the world's largest building - the Burj Khalifa.
Dubai Mall: In the world's largest shopping mall, everyone is guaranteed to find what they are looking for. In addition to almost all well-known brands and stores, you will also find a diverse food market and great experiences for young and old in the Dubai Mall.
Sky Views: The Sky Views observation deck offers a great view of the Burj Khalifa and provides thrills with a glass slide or the Edge Walk.
Dubai Fountain: The famous water games in front of the Dubai Maill/Burj Khalifa attract numerous visitors every day from 6 pm. The water games with background music are simply enchanting!
Dubai Opera: Experience world-renowned opera, theater, ballet or concert events at Dubai Opera.
La Perle: Enjoy a world-famous show on a gigantic water stage. At La Perle, you can expect impressive acrobats in symbiosis with moving music and skillful animation.
Dubai Aquarium: Discover all the diversity of the underwater world at the Dubai Aquarium and Underwater Zoo.
Coca-Cola Arena: Attend a major event at the Coca-Cola Arena in Downtown Dubai. How about a tennis match or a comedy show, for example?

Secure Downtown Dubai Experiences Now

Get tickets now for your unforgettable experience in Dubai Downtown.

Hotels with Burj Khalifa View

Would you like to enjoy a hotel in Downtown Dubai and a magnificent view of the Burj Khalifa at the same time during your stay in Dubai? Or even stay directly in the tallest building in the world? Then our selected Burj Khalifa hotels are just right for you!