Best 5-Star Hotels in Dubai
Dubai is a true mecca of luxury hotels, which always outdo each other and beat new records. Here, no wishes are guaranteed to be left unfulfilled - because luxury and service are the top priorities at the 5-star hotels in Dubai. Discover the best luxury hotels in Dubai now and find your perfect oasis of well-being.
Best 5-Star Hotels in Dubai
What to expect in Dubai's 5-Star hotels
There is hardly any other vacation destination with as many luxurious and unique 5-star hotels as Dubai. The standards for luxury are set anew here almost every day. The 5-star hotels in Dubai are also constantly breaking new records. Whether it's the tallest hotel in the world or the largest or highest pool area, the sky's the limit here in Dubai.
But what can you expect from a 5-star hotel in Dubai? The luxury hotels all have the usual amenities such as a large pool area, a spa and fitness area, spacious rooms and suites, hospitality, and unique gastronomy with delicious breakfast buffets and excellent restaurants. In addition, almost all hotels located on the beach have private and spacious beach access with sunbathing areas. The luxury hotels are also characterized by large, palm-fringed outdoor areas with areas to relax and enjoy.
To help you choose the right 5-star hotel in Dubai, we have listed the best luxury hotels for you in this article. With these hotels, you are guaranteed to do nothing wrong and nothing will stand in the way of a relaxing and unforgettable vacation in Dubai.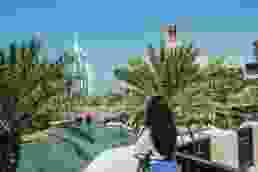 Even more luxury in Dubai's 7-Star hotel
A 5-star hotel is still not enough luxury for you? Fortunately, Dubai also has the world's most luxurious 7-star hotel: the Burj al Arab. The hotel delights with its unique interior and exterior architecture, as well as its luxurious suites. In addition, the 7-star hotel in Dubai has 5 pools and 10 exclusive restaurants. As a guest of the Burj al Arab, you will experience luxury as far as the eye can see - and far beyond.
Exclusive Experiences in Dubai
For this very special occasion, you will find exclusive experiences in Dubai with us. You would like to inspire and surprise someone with a unique undertaking? Or want a certain day to be remembered forever? Then let these exclusive tickets convince you:
Visit Burj al Arab

You want to visit the Burj al Arab? Since simple tours are not allowed, we recommend a visit to one of the restaurants or bars in the Burj al Arab. Because on request you will then gladly receive a small tour!