Expo 2020 – The World Exhibition in Dubai
The long wait is finally over! The World Expo will finally take place from October 01, 2021, to March 31, 2022, in Dubai! At this year's expo, everything in Dubai will revolve around the topics of mobility, sustainability, and opportunities of the future. In this article, you will get to know more about popular Expo tickets, Expo travel packages as well as further important information about the World Expo.
Most Popular Expo Tickets
Expo Tickets in Detail
Secure your tickets for the Expo in Dubai in advance through our ticket partner GetYourGuide. You will benefit from many advantages such as international customer service around the clock, a free cancellation policy as well as the best price guarantee!
Standard Expo Ticket

from $ 26, duration: 1 day

Admission ticket for the Dubai Expo
Optional: Transfer

Visit the mega event and become part of a big and meaningful event in Dubai. At the Expo, you will learn everything about mobility and sustainability in various pavilions. You can also expect exciting live events as well as culinary highlights from around the world. Depending on your needs, you can book a transfer directly from your hotel in addition to your Expo ticket. Persons under 17 years of age are free of charge.

Guided tour of the Expo

from $89,99, duration: 8 hours

Admission ticket to the Expo Dubai
Professional tour guide in the preferred language
Incl. transfer from hotel and mineral water

Let your tour guide show you around the Expo site. This way you are guaranteed to discover all the highlights at the Expo and also get exciting insider knowledge in your preferred language. Of course, your guide will pick you up directly in front of your hotel and bring you back after an exciting tour through the Expo.
Hotel + Expo ticket in a convenient travel bundle
Do you want to visit Dubai mainly because of the Expo? If so, our travel bundles are just the right thing for you. Because our travel bundles already include accommodation as well as an Expo ticket, transfer possibilities, and optionally further activities in Dubai. You do not have to worry about anything else.
Travel bundle "Expo Light - 5 days"

from 455 € per person (for 2 travelers sharing a double room)
Duration: 5 days / 4 nights (extendable)

This travel bundle including Expo tickets is for those who want to visit Dubai mainly for the Expo.

Meet & Greet at Dubai International Airport
Transfer for arrival and departure (Dubai Hotel-Dubai Airport)
4 nights accommodation incl. breakfast in a 4-star hotel of your choice from our suggestions (see offer page)
Including 3 day tickets to the Expo with transfer
This package is suitable for private and business travelers

Travel bundle "Expo Plus - 7 days"

from 641 € per person (for 2 travelers sharing a double room)
Duration: 7 days / 6 nights (extendable)

This travel bundle including Expo tickets invites you on an unforgettable trip to Dubai. This package combines the visit to the World Expo with activities you should not miss in Dubai.

Meet & Greet at Dubai International Airport
Transfer for arrival and departure (Dubai Hotel-Dubai Airport)
6 nights accommodation incl. breakfast in a 4-star hotel of your choice from our suggestions (see offer page)
Including 3 day tickets to the Expo with transfer
Including half day city tour around historic Dubai, desert safari with BBQ dinner, and entertainment

Individual Expo travel bundle

We would also be happy to put together an individual travel bundle including Expo tickets for you. Please send us an individual request with your requirements.
Dubai's big plans for the Expo 2020
Everyone should have seen the World Expo at least once in their life! But the Expo in Dubai will probably exceed all previous expectations. Dubai, the city setting one world record after another, wants to inspire its international audience! Dubai is taking on the topic of sustainability, for example, with the utmost responsibility. You can already tell from the sophisticated Expo building that Dubai is doing everything it can to put on a sustainable event. Normally, the elaborately designed Expo sites are dismantled immediately after the event, and most of the materials end up in the trash. But things are different at the Expo in Dubai. The pavilions, which are shaped like petals, can be dismantled and are to be rented out after the Expo.
What to expect at the Expo 2020
The World Expo is aimed primarily at visitors interested in innovation, scientific and technological progress. Over 25 million visitors are expected during the six-month World Expo.
In total, Dubai is letting the Expo cost over 7 billion euros to build the 480-hectare exhibition site. In addition to the unique grounds for this event, Dubai also wants to shine in the rest of the country and present itself from its best side. For this reason, construction is currently underway in Dubai so that many more attractions can be built in time for the Expo. The central point of the Expo will be "Al Wasl". The "Al Wasl" will combine the three exhibition themes of "Opportunity, Mobility, and Sustainability".
You can expect 192 country pavilions, 60 live shows daily, over 200 restaurants, and many hours of entertainment every day!
Celebrating 50 years of UAE!
In addition, the United Arab Emirates will celebrate its Golden Jubilee in 2021. Yet another reason to visit Dubai for the Expo! In any case, there are plenty of reasons to celebrate!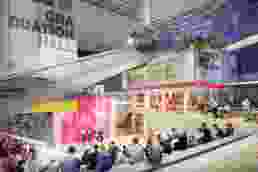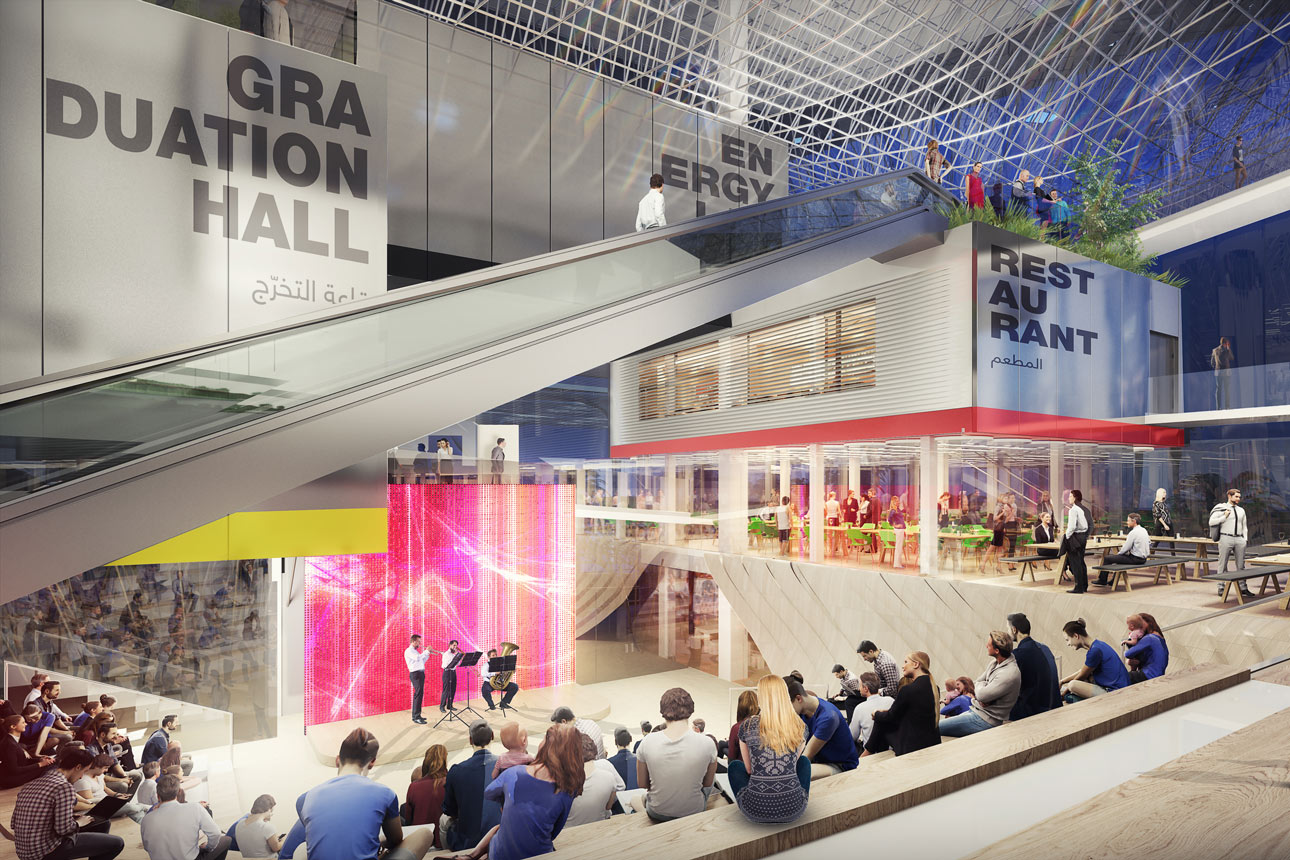 FAQ about the Expo 2020 in Dubai
When will Expo 2020 take place?
Expo 2020 will take place from October 21, 2021 to March 31, 2022.
Originally, the Expo was supposed to take place a year earlier. However, it had to be postponed due to the worldwide COVID-19 pandemic.
What will Germany exhibit at the Expo 2020?
CAMPUS GERMANY presents its ideas and innovations in three labs: Future Energy Lab, Future City Lab, and Biodiversity Lab. Countless exciting exhibits from German innovators and problem solvers await visitors there. A total of around 3 million visitors are expected at CAMPUS GERMANY.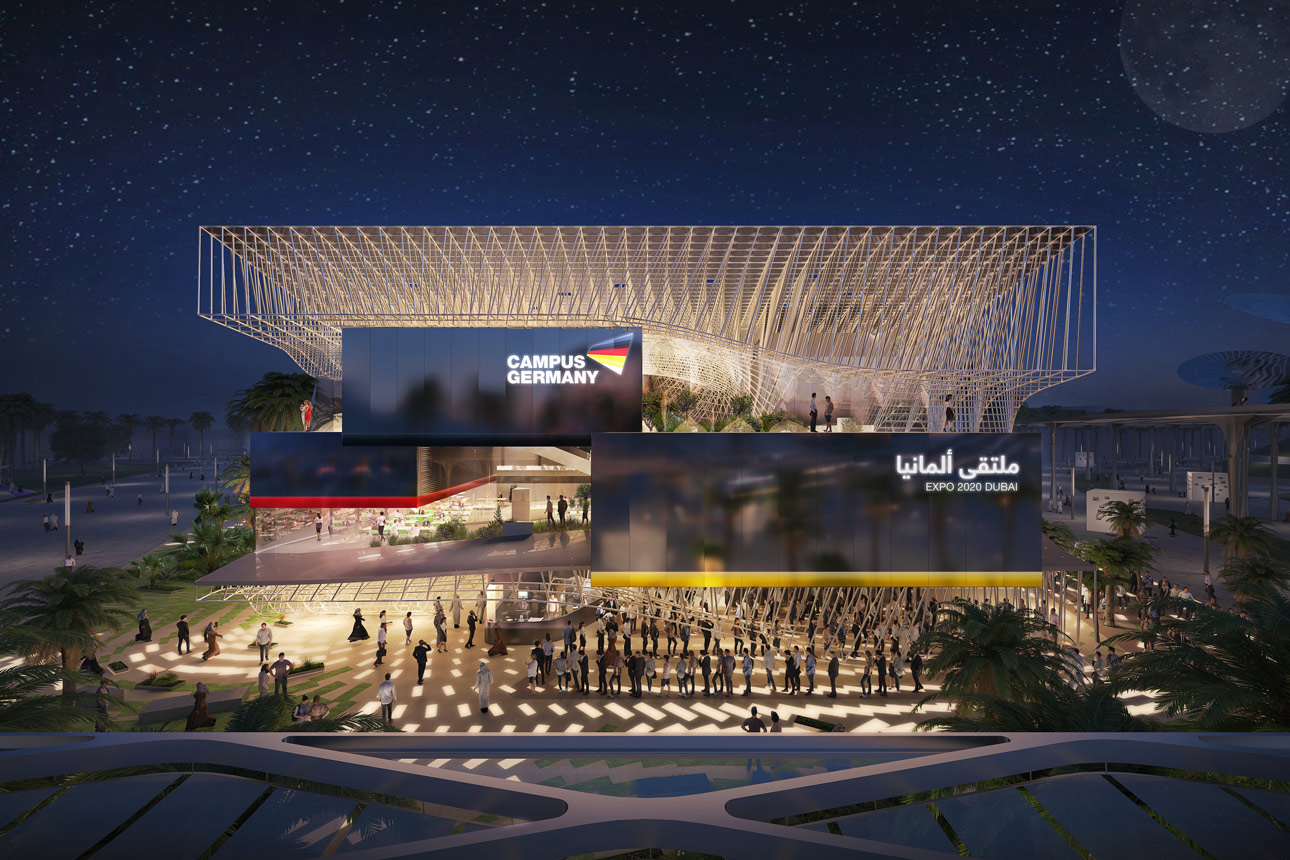 © facts and fiction | NÜSSLI Adunic | lava
When will tickets be available for Expo 2020?
Ticket sales will start in early 2021. Subscribe to our Facebook page and our free newsletter and never miss out on Expo 2020 and Dubai!
Where will Expo 2020 take place?
The Expo takes place in Dubai. The 4.38 square kilometer site is located in the south of Dubai. It is in the immediate vicinity of Dubai World Central Airport (Al Maktoum International Airport). Naturally, the site will have its own metro station. This means that the Expo can be reached from all over Dubai in a short time.
What exactly is the Expo?
Expo is a world exhibition that was held for the first time back in 1851. The big Expo - called World Expo - takes place every 5 years. The Expo stands above all for innovations and the future. At the World Expo, the most diverse countries present innovations and ideas of the future on a certain topic.
What can you expect at Expo 2020?
- The world's largest 360-degree projection screen at Al Wasl Plaza
- Over 200 different restaurants from around the world
- Rotating observation tower
- Various art exhibitions by local and global artists
- Entertainment and live shows and much more!
New buildings in Dubai for the Expo
Numerous mega projects in Dubai are set to be completed in time for Expo 2020. Be one of the first and combine your Expo visit and experience Dubai's newest attractions!
Opening Hours and Directions
Opening Hours
1st October 2021 – 31st March 2022
Monday

10:00 - 0:00

Tuesday

10:00 - 0:00

Wednesday

10:00 - 0:00

Thursday

10:00 - 2:00

Friday

10:00 - 2:00

Saturday

10:00 - 0:00

Sunday

10:00 - 0:00
Directions
Arrival by Metro
An extra metro line is being built in Dubai for the Expo. It should take less than 15 minutes to get from the Dubai Marina to the Expo grounds. Up to 46,000 people will be transported per hour.
Arrival by Bus
Parking spaces are planned at all four entrances to the Dubai site. In total, there will be over 30,000 free parking spaces.
Address
Dubai Exhibition Centre
Website
expo2020dubai.com
Request travel bundle without obligation
With the non-binding booking request, you tell us your details and wishes for the trip. We will then send you a non-binding offer shortly.