Expo 2020 – The World Exhibition in Dubai
Due to the COVID-19 pandemic, the Expo in Dubai was postponed by one year. Therefore the Expo will take place from 01 October 2021 to 31 March 2022.
EAt this time, everything in Dubai revolves around the topics of mobility, sustainability, and future possibilities. In this article, you will find all the essential information about Expo 2020 / 2021, and you will also receive the eagerly awaited Expo tickets directly from us!
Tickets for Expo 2020
Together with our partner Viator, we are offering you a broad range of Dubai Expo tickets. You can either book single tickets or special tickets with transfers, tours, or even whole travel packages.
Dubai Has Big Plans for Expo 2020
Everyone should see the World Exposition at least once in their life! The Expo in Dubai will probably exceed all previous expectations. That's because Dubai, the city that sets one world record after the other, wants to inspire its international audience! Dubai, for example, is facing up to the topic of sustainability with the greatest responsibility. Even the sophisticated Expo building shows that Dubai is doing everything it can to create a sustainable event. Normally, the elaborately designed Expo grounds are dismantled immediately after the event and the materials usually end up in the rubbish. The situation will be different at the next Expo in Dubai. The pavilions, which will be in the shape of petals, are to be dismantled and rented out after the Expo.
What You Can Expect at Expo 2020
The World Expo is primarily aimed at visitors who are interested in innovation, scientific, and technological progress. Over 25 million visitors are expected during the six-month World Expo.
In total, the Expo will cost Dubai more than 7 billion euros to build the 480-hectare exhibition site. In addition to the unique site for this event, Dubai also wants to shine in the rest of the country and present its best side. For this reason, Dubai is currently busy building so that many more sights will be ready in time for the Expo. In the center of the Expo will be the central point "Al Wasl". Here, the three exhibition themes "Opportunities, Mobility and Sustainability" will be combined.
You can expect 192 country pavilions, 60 live shows every day, over 200 restaurants, and many hours of entertainment every day!
The UAE Celebrates 50 Years!
The United Arab Emirates will also celebrate its Golden Jubilee in 2021. Another reason to visit Dubai for Expo 2020! In any case, there are plenty of reasons to celebrate!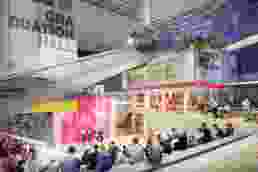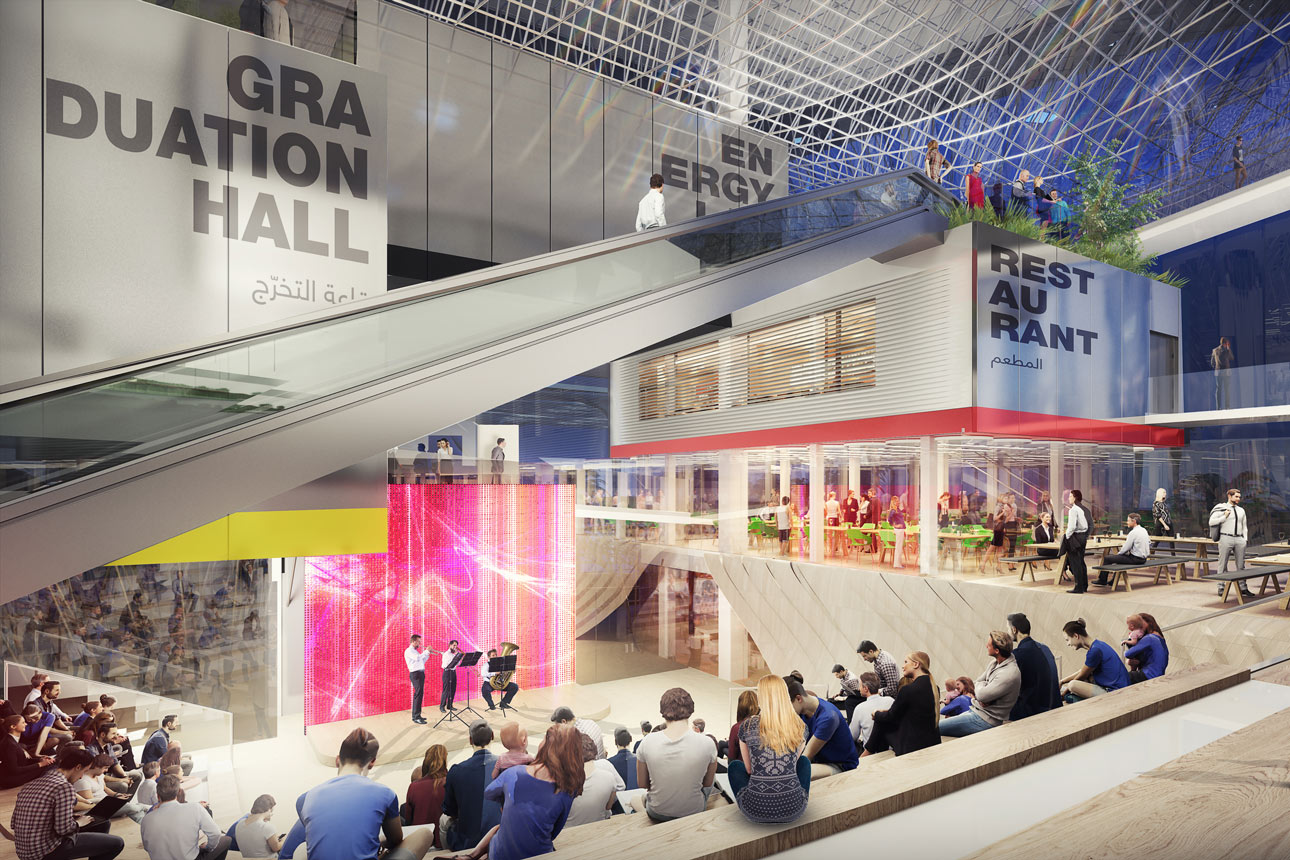 FAQ about the Expo 2020 in Dubai
When will Expo 2020 take place?
Expo will take place from 21 October 2021 to 31 March 2022.
Originally, the Expo was supposed to take place one year earlier. However, it had to be postponed due to the worldwide COVID-19 pandemic.
What is Germany exhibiting at Expo 2020?
CAMPUS GERMANY will present its ideas and innovations in three laboratories: Future Energy Lab, Future City Lab, and Biodiversity Lab. Visitors can look forward to countless exciting exhibits by German innovators and problem solvers. A total of around 3 million visitors are expected at CAMPUS GERMANY.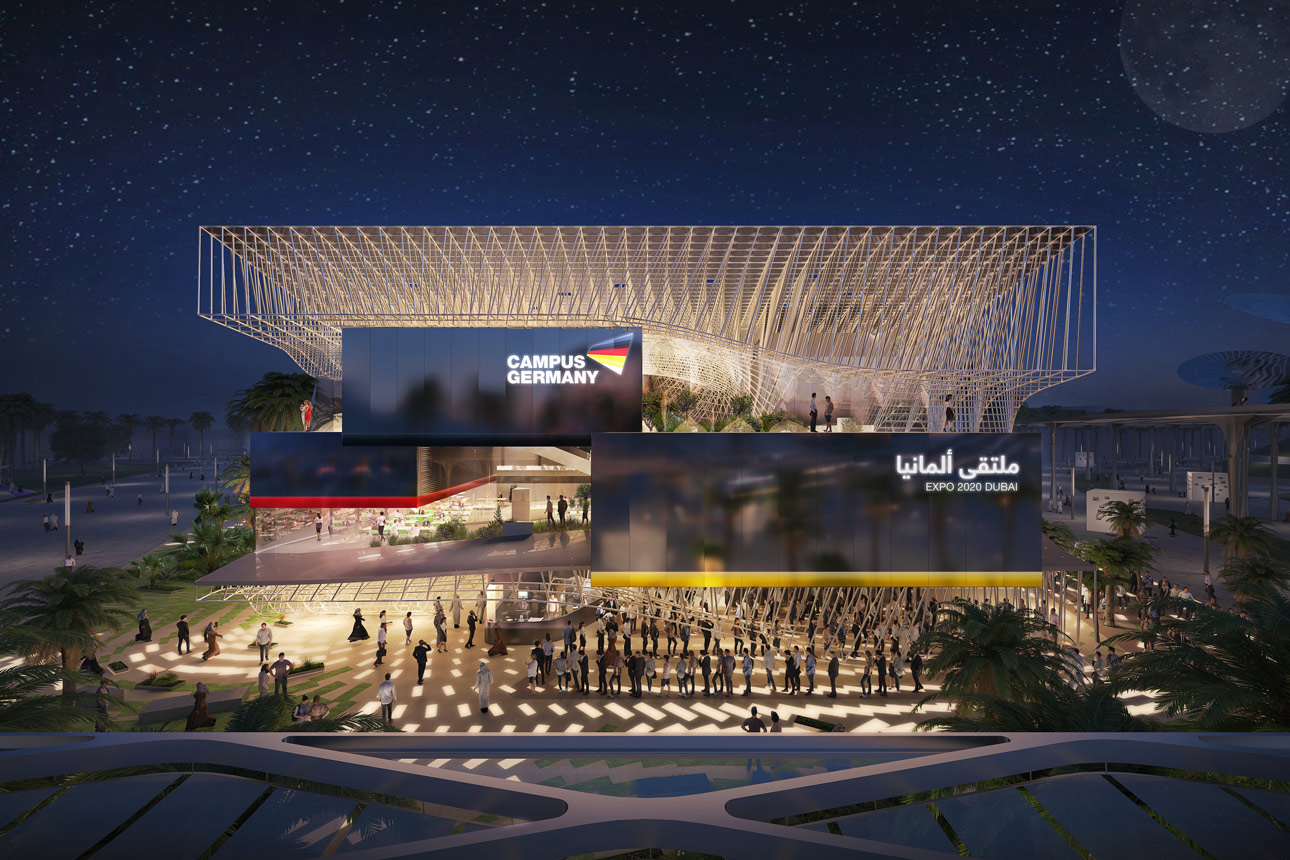 © facts and fiction | NÜSSLI Adunic | lava
When will tickets be available for Expo 2020?
Ticket sales will start in early 2021. Subscribe to our Facebook page and our free newsletter and never miss out on Expo 2020 and Dubai!
Where will Expo 2020 take place?
The Expo takes place in Dubai. The 4.38 square kilometer site is located in the south of Dubai in the immediate vicinity of the Dubai World Central Airport (Al Maktoum International Airport). Of course, the area will have its own metro station. This means that the Expo can be reached from all over Dubai in a short time.
What's the Expo?
The Expo is a world exhibition that took place for the first time in 1851. The big Expo – called World Expo – takes place every 5 years. The Expo stands above all for innovation and the future. At the World Expo, diverse countries present their innovations and ideas for the future on a certain topic.
What can you expect at Expo 2020?
– The world's largest 360-degree projection screen on Al Wasl Plaza
– Over 200 different restaurants from all over the world
– Rotating observation tower
– Various art exhibitions by local and global artists
– Entertainment and live shows and much more!
New Buildings in Dubai for the Expo
Right on time for Expo 2020, numerous mega-projects are to be completed in Dubai. Be one of the first to book your Expo visit and experience Dubai's latest attractions!
Opening Hours and Directions
Opening Hours
1st October 2021 – 31st March 2022
You will find the exact opening hours here as soon as they are officially known.
Directions
Arrival by Metro
An extra metro line is being built in Dubai for the Expo. It should take less than 15 minutes to get from the Dubai Marina to the Expo grounds. Up to 46,000 people will be transported per hour.
Arrival by Bus
Parking spaces are planned at all four entrances to the Dubai site. In total, there will be over 30,000 free parking spaces.
Address
Dubai Exhibition Centre
Website
expo2020dubai.com