Luxury Hotel Jumeirah Marsa Al Arab
Discover the ultimate luxury and indulgence experience at the luxury Jumeirah Marsa Al Arab hotel on Dubai's immaculate coastline. The hotel combines opulent accommodations, first-class amenities and breathtaking views of the Arabian Gulf. Immerse yourself in a world of glamour that caters to your every desire.
Jumeirah Marsa Al Arab hotel
The Jumeirah Marsa Al Arab is a luxury hotel in the form of a futuristic superyacht and is a new addition to the hotel group's ocean trilogy in the Arabian metropolis of Dubai. With its striking yacht look, the resort sets an architectural exclamation mark and will welcome discerning vacationers with a spectacular facade from the beginning of 2024. The luxurious hotel impresses with an impressive pool complex, including circular pools and an exclusive VIP pool for adults, as well as picturesque gardens lined with palm trees and inviting cabanas and pavilions.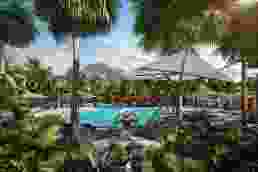 The exclusive residential units offer suites, luxury apartments, and penthouses, which together with the first-class gastronomy and spa concept promise unforgettable and exquisitely pampered vacation days. Another highlight is the promenade along the newly created marina, which offers pleasant walks and spectacular panoramic views of the famous Burj Al Arab. The Jumeirah Marsa Al Arab promises its guests an exceptional experience full of luxury and elegance amid Dubai's breathtaking scenery.
More Information About the Mega-Project Marsa Al Al Arab
Book Jumeirah Marsa Al Arab Hotel
In addition to numerous hotels, the two islands will also be home to entertainment facilities. Several superlative playgrounds, a huge shopping center, a water park, a theme park giving insights into the underwater world, and a theatre are planned.
Book Jumeirah Marsa Al Arab Hotel
Jumeirah Marsa Al Arab hotel

An amazing experience of luxury, indulgence, and relaxation awaits you when staying at this unique luxury hotel. Enjoy the private, fine sandy beach as well as the spectacular pool area with circular pools or an exclusive VIP pool for adults. The palm-fringed gardens invite you to spend relaxing moments in private cabanas and pavilions. Savor culinary delights and indulge in pampering spa treatments to make your stay at Jumeirah Marsa al Arab an unforgettable experience. This hotel promises luxury, elegance, and an incomparable charm that will delight you.

Unique for this luxury hotel

Impressive pool area with circular pools and VIP pool for adults
Private sandy beach
Picturesque gardens with palm trees, private cabanas, and pavilions
Exclusive accommodation units with suites, luxury apartments, and penthouses
First-class gastronomy and spa concept

Marsa al Arab cheap booking

As soon as the Marsa al Arab opens, you will find here the best offers from our top hotel providers. Subscribe to our newsletter now and stay informed.
We'll Keep You Updated!
Our newsletter and our Facebook page "Dubai Experience" will keep you informed of the progress! Don't miss any more news and be one of the first to know as soon as the Marsa Al Arab hotel have opened.
Besides news from Marsa Al Arab, we will also keep you up to date on other Dubai mega-projects such as the Ain Dubai Ferris Wheel, and the Ciel Tower as well as events and new attractions. Take a look at the plans for Dubai's future.
Further Future Plans in Dubai
The most popular tickets for Dubai