Yacht Charter in Dubai - Hire Your Own Yacht
A very special way to experience and explore Dubai is a tour with a private yacht. From aboard a luxury yacht on the Persian Gulf, you will have an incredible view of Dubai's skyline. We will show you where and how you can best charter a yacht in Dubai, including your own captain.
Yacht Charter - Book Online and Benefit from Many Advantages
Charter a yacht in Dubai online through our partner Charter Click and benefit from many advantages:
Access to the entire range of products facilitates comparison
Save time once you're there
All data and facts about the yachts at a glance
Usually cheaper price than on site
Chartering the Right Yacht for Every Purpose - A Comparison
A Yacht for Day and Night

If you want to spend several days on the yacht or spend the night there, this yacht is ideal for you: The Saymore Waves offers space for up to 10 people and has a cabin as well as 2 beds. It also has a small bathroom with a toilet and kitchenette. Perfect for escaping city life for a few days and exploring Dubai from aboard a yacht!

The Ideal Yacht for a Sightseeing Tour with Several People

If you are planning a sightseeing tour on the yacht with several people, the yacht D3-01 is perfect. Lie on one of the two sun decks while you admire the landmarks. This yacht has room for 12 people, but only three people can sleep. There is also a small bathroom, a kitchen with a refrigerator and a lounge with comfortable outdoor seating. Due to the lounge area, the yacht is also suitable for smaller parties.

Our Luxury Choice - The Luxury Jasmine 55ft

The Luxury Jasmine is the ideal yacht for the whole year. Due to the so-called flybridge construction, she has two decks on which you are far enough away from the spraying spray in winter and can sunbathe perfectly in summer. Sun protection included! The 55-foot motor yacht is ideal for several hours/days on the water and can accommodate up to 20 people. A spacious outside and inside area with many extras such as the sun deck, beds, a toilet, a bathing ladder or the refrigerator make the yacht the perfect comfort solution.

The Inexpensive Yacht Alternative

The yacht Sweet 17 is for all those who want to charter a yacht in Dubai but do not want to spend too much money. The Sweet 17 offers space for 6 people and is suitable for a small sightseeing tour, fishing or just relaxing. This cheap boat is fully equipped with everything you need for a few hours on the water! You can even rent a grill for a small extra charge.
What Should I Consider When Chartering a Yacht in Dubai?
Do you want to hire a yacht in Dubai but don't know exactly which one? We have summarized and tried out a wide range of yachts and have summarized the most important information for you. You are guaranteed to find the right yacht for unforgettable hours plus benefit from our local experience.
A first important criterion for a successful and comfortable yacht trip is the construction and size of the yacht to be chartered. In the last few years we have had the opportunity of chartering different motor yachts in Dubai and have noticed big differences in comfort (keyword seasickness!)
Larger and therefore heavier boats are more comfortable than lighter boats because the swell affects them less strongly. For people who would like to charter a yacht in Dubai for a longer period of time or for people who get seasick easily, we recommend a larger yacht that will be more stable in the Persian Gulf.
Would You Like to Hire a Yacht Between December and March in Dubai?
Good choice - at this time of year it's not hot on the deck of the yacht. However, a yacht trip at this time can quickly become uncomfortable if your boat is too small or built unfavorably. On smaller yachts, at a certain speed and a certain swell, water splashes into the interior of the boat. A trip with a smaller, open yacht will therefore quickly become a wet and miserable experience as the wind can quickly become unpleasantly cold.
A larger yacht, in which you as a passenger are further away from the water, is a remedy. Alternatively, you can charter a so-called "flybridge" yacht where you stay on a flying deck. Flybridge yachts also offer a great view due to their elevated position. And in summer you are a class of shade provider for the lower deck. So we can warmly recommend this type of yacht to you - take a look at the Luxury Jasmine model we showed earlier in this article.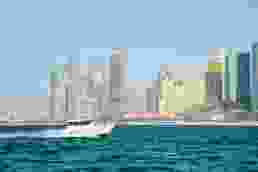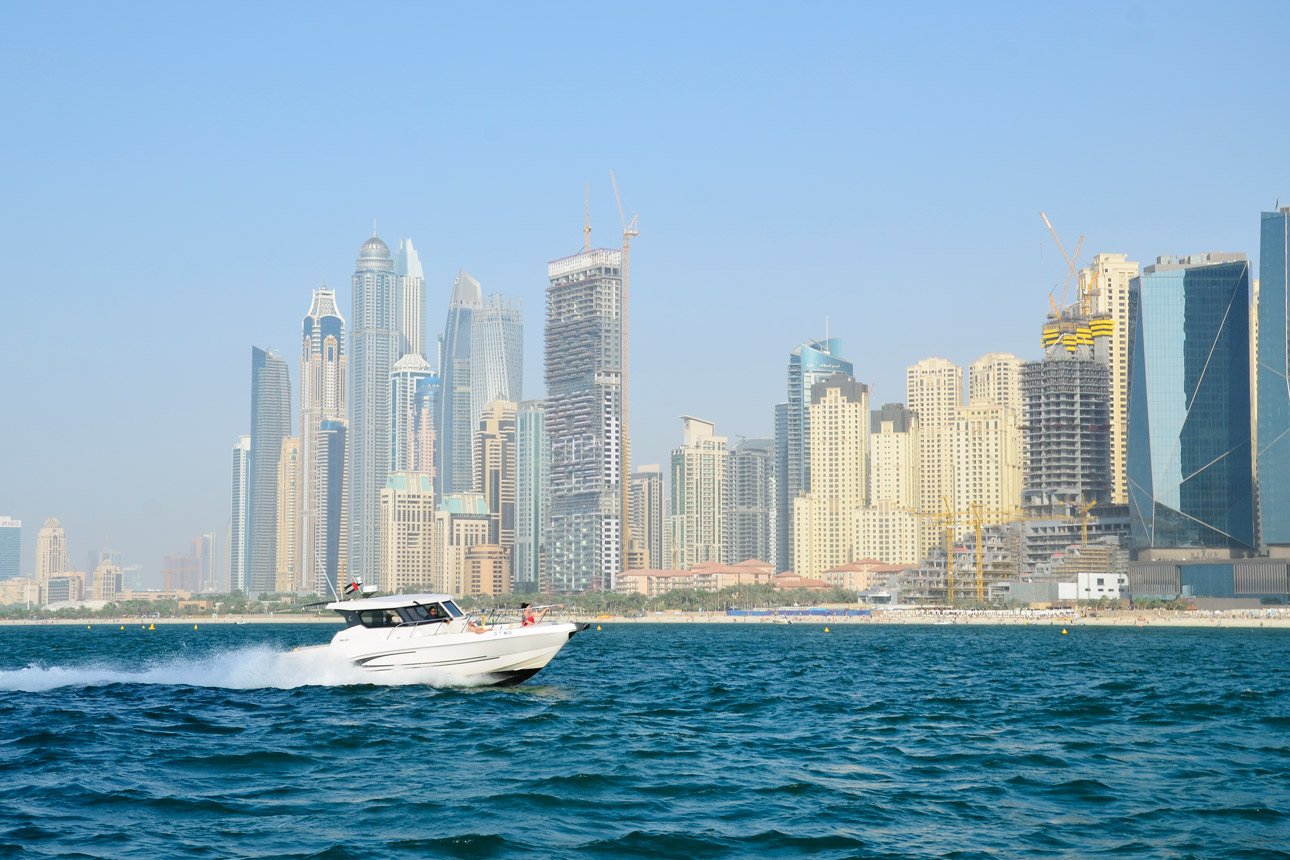 Sightseeing on Board a Yacht
Some sights in Dubai are best viewed from on board a yacht! The many islands, such as the artificial palm island Palm Jumeirah, Bluewaters and the archipelago "The World" can be ideally explored with a yacht. You will pass many luxury hotels like Atlantis The Palm, Anantara, and One&Only The Palm, which you can see from the boat. Especially impressive is the drive past the Burj al Arab. The luxury hotel and its new pool and sun deck can hardly be seen that close unless you are guests of the hotel or visit the pool restaurant of the Burj al Arabs.
Yacht Charter in Dubai for Sightseeing Tours
If you would like to explore and marvel at the main attractions with the yacht, we recommend that you charter a yacht in the Dubai Marina. The Dubai Marina offers an almost unlimited number of boats and is located close to the important sights on the water.
Already the first minutes of the yacht trip are impressive. While you are walking slowly through the canal of the Dubai Marina, you have an ideal view of the impressive skyscrapers and the pedestrian promenade with its many bars and restaurants. It continues after only a few minutes past the artificial island Bluewaters, with the viewing wheel Dubai Ain as a landmark.
Even on the magnificent skyline of the Dubai Marina you probably won't get a better view than from on board a yacht. One gets wonderful views of the city especially at night when the lights are reflected in the gulf.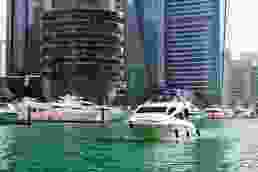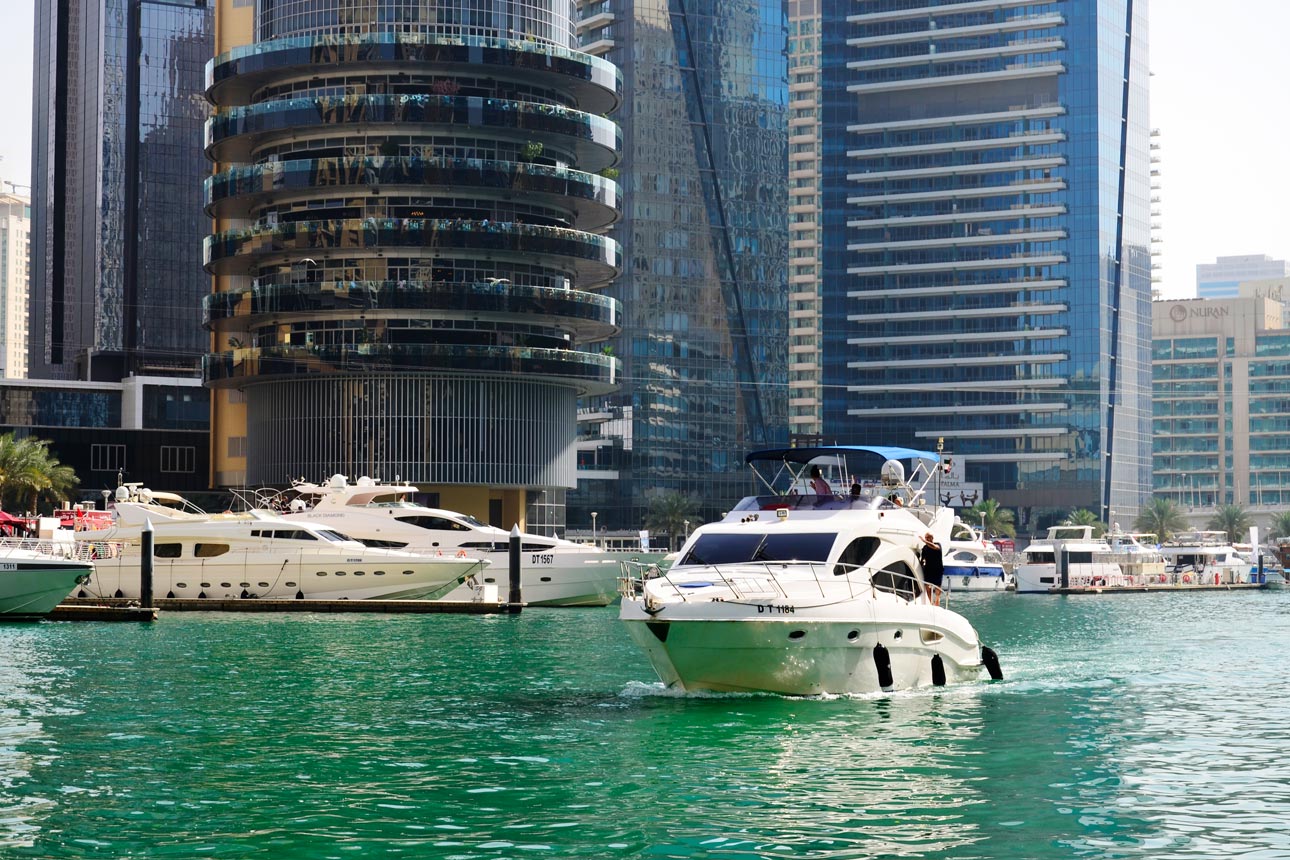 Tips for the Perfect Yacht Trip in Dubai
So that you can really enjoy your hours on the yacht, we advise you to take a towel with you. This is so that you can lie down on the sun deck and sunbathe a little. Since you will hardly notice the sun because of the breeze, we also recommend that you take a sun hat / a cap with you and that you apply enough sunscreen before the start of the journey.
Don't forget a camera to capture the beautiful views!
On most yacht trips in Dubai, you will be given drinks during the trip. However, we recommend that you bring a few extra snacks and drinks with you on a longer yacht trip.
Experience Dubai from a different angle and relax while your captain safely transports you through Dubai's waters. Especially in summer, a yacht trip in Dubai is a pleasant refreshment. Charter your dream yacht in Dubai today.